Ice Dams
Ice Dams –  Build-up of ice, usually over roof eaves (edges/overhangs) or roof-to-wall areas, which prevents melting snow from draining off the roof. 

The water that backs up hehind the "ice dam" can leak into the home, resulting in damaged wood, insulation, and drywall at the ceiling and/or walls.  Additionally, these areas of moisture can attract damaging insects like termites and carpenter ants; and promote mold growth.  

Ice Dams are usually by from poor attic ventilation and/or insulation. Precautions should be taken to prevent ice dams like installing proper insulation R-values and attic venting. 

Many insurance companies provide covered to repair damage caused by Ice Dams.  Please note that prevention if ice dams is the only ideal solution.

Removal of ice dams should be done professionally for safety reasons - Please contact BUCKSTONE BUILDING AND RESTORATION, LTD today!


ACTUAL ICE DAM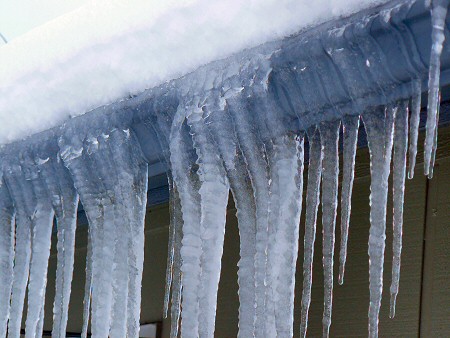 CONTACT BUCKSTONE BUILDING AND RESTORATION, LTD FOR ALL YOUR HOME MAINTENANCE NEEDS!

  CALL OR EMAIL TODAY!
  330.703.7584  - 24 hr cell
  330.548.DECK (3325) - ph
   info@buckstonebuilders.com